1080P HD WiFi Streaming Weather Station Clock Radio with Rotating Camera Lens
Sale
Zoom the image with the mouse
Custom CMS Block
Custom CMS block displayed at the Product Page. Put your own content here: text, html, images, media... whatever you like. There are many similar sample content place holders across the store. All editable from admin panel.
1080P HD WiFi Streaming Weather Station Clock Radio with Rotating Camera Lens
Pricing and Availability:
SKU:

CL-HC340w

Availability:

In Stock and Ready to Ship.
1080P HD WiFi Streaming Clock Radio Hidden Spy Camera with Rotating Camera Lens
Quick Start Guide
User Manual
Wall Charger
Lifetime Technical Support
1 Year Warranty
Streams 1080P HD Live Color Video
Fully Functional FM Clock Radio
Hidden Lens Rotates 330 Degrees
Easy 5 Minute Setup Process
Streams to iPhone or Android
Records to Micro SD (128GB Max)
Motion Detection/Activity Alerts
2 Year Warranty and Lifetime Support
Video Resolution

1980x1080 (1080P HD) or 720P or D1 (User Adjustable)

Viewing Angle

90 Degrees Wide, Rotates Up to 330 Degrees

Frame Rate

Up to 30fps

Power Supply

Battery or AC Power

Battery Life

Up to 3-4 Hours

Video Format

AVI

File Size

1GB = Approximately 2 Hours of Video

Night Vision

No

Motion Detection Alerts

Yes

Storage Type

Micro SD Card (128GB Maximum)

Time/Date Stamp

Yes

Smartphone Compatible

Yes - iPhone and Android Compatible

OS Compatibility

Not PC or Mac Compatible - Streams to Smartphone Only

Size

6.75" x 3.0" x 2.25"

Warranty

2 Year
QUESTION
ANSWER
QUESTION
ANSWER
QUESTION
ANSWER
QUESTION
ANSWER
QUESTION
ANSWER
QUESTION
ANSWER
QUESTION
ANSWER
QUESTION
ANSWER
QUESTION
ANSWER
QUESTION
ANSWER
Inside this weather station clock radio is a powerful WiFi streaming hidden camera lens that allows you to monitor your home or office right on your smartphone from anywhere in the world! The hidden camera lens rotates 330 degrees to give you the perfect view of any room.
Setting up this WiFi nanny cam is simple, and takes only a few minutes using our free streaming app. Just download the app, charge the camera battery (or plug into AC power), and connect the camera to your home's wireless network. It's just that easy!
Once you've got the camera set up, you'll be able to monitor the live video feed through the app. Swipe the live video left or right to rotate the camera lens. The camera is hidden inside, and rotating the lens is completely covert - no one will see or hear it, allowing you to monitor your babysitter or nanny, your office at work, or wherever you need covert video surveillance.
In addition to live streaming, you can also record video to a hidden micro SD card, so you can keep a copy of what your camera saw, even if you didn't see it happen live. You can also set up motion detection alerts, which will notify you instantly if your camera detects activity - perfect for home or business security, or just knowing that your kids made it home from school.
Mix and match additional WiFi cameras and monitor and them all with the same streaming app.
Popular Uses:
Home Security Camera - Monitor your home or apartment with this WiFi streaming hidden spy camera
Nanny Camera - Ensure that your babysitter or nanny is taking proper care of your children in your home

Corporate/Office Security -

Monitor employee productivity or investigate theft or inventory shrinkage

Elderly or Loved One Care -

Keep a watchful eye on loved ones in a nursing home or assisted care facility
Features and Benefits:

BATTERY OR AC POWER
This WiFi streaming hidden camera offers two power options - battery power for short term use (2-3 hours) or AC power for 24/7 operation.

WIFI INTERNET STREAMING
The HC340w connects wirelessly to your home or business wireless network, allowing you to live stream your video anywhere in the world.

EASY SETUP PROCESS
Unlike most internet streaming hidden cameras, the HC340w is simple to set up, and includes our easy to read quick start guide and user manual.

STREAM TO IPHONE/ANDROID
Once you set up your WiFi camera you'll be able to stream live video to your iPhone or Android device using our free live streaming app.

RECORD TO MICRO SD CARD
In addition to live streaming your video, you'll be able to also record video to a hidden micro SD card so you'll never miss a moment of activity.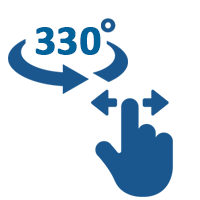 ROTATING CAMERA LENS
This hidden camera also features a rotating hidden camera lens. Just swipe left or right on the live video on your phone to look around the room.

1080P HD COLOR VIDEO

The hidden camera lens streams and records 1080P High Definition color video, so you'll be able to easily see what's going on.

NO MONTHLY FEES
Unlike many wireless streaming cameras, there are never any monthly fees or costs to view, stream, or record video from your hidden camera.

SECURE AND ENCRYPTED VIDEO
Your live video stream feed is encrypted and password protected, so no one will be able to view your video unless you provide them your login info.
COVERT OPERATION
This hidden camera is completely covert and hidden - no telltale signs it is actually a camera. Clocks are so common it can blend in anywhere.

ADJUSTABLE USER SETTINGS

You'll be able to adjust over a dozen streaming and recording options, giving you complete control over your live streaming spy camera.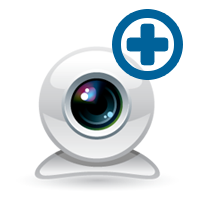 ADD ADDITIONAL CAMERAS
If you have multiple rooms to monitor, you can mix and match unlimited additional cameras in the same app for a total home security package.

LIFETIME TECH SUPPORT
In addition to live streaming, we also provide unlimited lifetime support if you ever have any questions about setting up or using your camera.

2 YEAR WARRANTY
We stand behind our products with an industry leading 2 year product warranty, so rest assured that your investment is protected.
1080P HD WiFi Streaming Clock Radio Hidden Spy Camera with Rotating Camera Lens
Quick Start Guide
User Manual
Wall Charger
Lifetime Technical Support
1 Year Warranty
Streams 1080P HD Live Color Video
Fully Functional FM Clock Radio
Hidden Lens Rotates 330 Degrees
Easy 5 Minute Setup Process
Streams to iPhone or Android
Records to Micro SD (128GB Max)
Motion Detection/Activity Alerts
2 Year Warranty and Lifetime Support
Video Resolution

1980x1080 (1080P HD) or 720P or D1 (User Adjustable)

Viewing Angle

90 Degrees Wide, Rotates Up to 330 Degrees

Frame Rate

Up to 30fps

Power Supply

Battery or AC Power

Battery Life

Up to 3-4 Hours

Video Format

AVI

File Size

1GB = Approximately 2 Hours of Video

Night Vision

No

Motion Detection Alerts

Yes

Storage Type

Micro SD Card (128GB Maximum)

Time/Date Stamp

Yes

Smartphone Compatible

Yes - iPhone and Android Compatible

OS Compatibility

Not PC or Mac Compatible - Streams to Smartphone Only

Size

6.75" x 3.0" x 2.25"

Warranty

2 Year
QUESTION
ANSWER
QUESTION
ANSWER
QUESTION
ANSWER
QUESTION
ANSWER
QUESTION
ANSWER
QUESTION
ANSWER
QUESTION
ANSWER
QUESTION
ANSWER
QUESTION
ANSWER
QUESTION
ANSWER
1080P HD WiFi Streaming Clock Radio Hidden Spy Camera with Rotating Camera Lens
Quick Start Guide
User Manual
Wall Charger
Lifetime Technical Support
1 Year Warranty
Streams 1080P HD Live Color Video
Fully Functional FM Clock Radio
Hidden Lens Rotates 330 Degrees
Easy 5 Minute Setup Process
Streams to iPhone or Android
Records to Micro SD (128GB Max)
Motion Detection/Activity Alerts
2 Year Warranty and Lifetime Support
Video Resolution

1980x1080 (1080P HD) or 720P or D1 (User Adjustable)

Viewing Angle

90 Degrees Wide, Rotates Up to 330 Degrees

Frame Rate

Up to 30fps

Power Supply

Battery or AC Power

Battery Life

Up to 3-4 Hours

Video Format

AVI

File Size

1GB = Approximately 2 Hours of Video

Night Vision

No

Motion Detection Alerts

Yes

Storage Type

Micro SD Card (128GB Maximum)

Time/Date Stamp

Yes

Smartphone Compatible

Yes - iPhone and Android Compatible

OS Compatibility

Not PC or Mac Compatible - Streams to Smartphone Only

Size

6.75" x 3.0" x 2.25"

Warranty

2 Year
QUESTION
ANSWER
QUESTION
ANSWER
QUESTION
ANSWER
QUESTION
ANSWER
QUESTION
ANSWER
QUESTION
ANSWER
QUESTION
ANSWER
QUESTION
ANSWER
QUESTION
ANSWER
QUESTION
ANSWER
1080P HD WiFi Streaming Clock Radio Hidden Spy Camera with Rotating Camera Lens
Quick Start Guide
User Manual
Wall Charger
Lifetime Technical Support
1 Year Warranty
Streams 1080P HD Live Color Video
Fully Functional FM Clock Radio
Hidden Lens Rotates 330 Degrees
Easy 5 Minute Setup Process
Streams to iPhone or Android
Records to Micro SD (128GB Max)
Motion Detection/Activity Alerts
2 Year Warranty and Lifetime Support
Video Resolution

1980x1080 (1080P HD) or 720P or D1 (User Adjustable)

Viewing Angle

90 Degrees Wide, Rotates Up to 330 Degrees

Frame Rate

Up to 30fps

Power Supply

Battery or AC Power

Battery Life

Up to 3-4 Hours

Video Format

AVI

File Size

1GB = Approximately 2 Hours of Video

Night Vision

No

Motion Detection Alerts

Yes

Storage Type

Micro SD Card (128GB Maximum)

Time/Date Stamp

Yes

Smartphone Compatible

Yes - iPhone and Android Compatible

OS Compatibility

Not PC or Mac Compatible - Streams to Smartphone Only

Size

6.75" x 3.0" x 2.25"

Warranty

2 Year
QUESTION
ANSWER
QUESTION
ANSWER
QUESTION
ANSWER
QUESTION
ANSWER
QUESTION
ANSWER
QUESTION
ANSWER
QUESTION
ANSWER
QUESTION
ANSWER
QUESTION
ANSWER
QUESTION
ANSWER
Have a question? Fill out the form below and one of our product experts will get back with you ASAP:
Got this to keep an eye on our condo while we're away (and to see what the cat is doing while we're at work) and it does a fine job of both!

Good even for the non-tech savvy

I'm not the greatest with computers so had my son set this up for me but once we got it up and running it's relatively straightforward
Write a Review