Whether you need memory cards, extra batteries, or cables and cords - we've got you covered.
ACCESSORIES
Memory Cards • Extra Batteries • Cables and Cords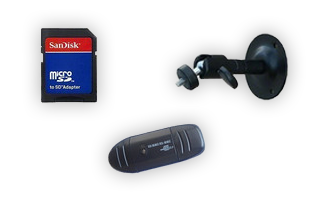 ---
Hidden Camera Accessories
We offer a wide selection of accessories to go with your hidden camera. We offer memory cards, charging cables, extra batteries, wall chargers, and much more to complement your camera purchase. The most commonly purchased accessory is a memory card, which allows you to record your video. These are needed for all-in-one self recording cameras, and are optional for WiFi nanny cameras, and are only needed if you want to record your video.
There are no products listed under this category.